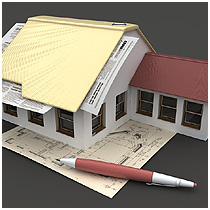 Plans needed to start construction: Home Map the first step
In order to start a construction, it is necessary to have several sets of plans and a home map. Each of these details an aspect of the work such as the aesthetic part, the structural condition, the operation and placement of electrical, hydraulic and mechanical equipment. The first and one of the most fundamental steps to building a home is in the planning stage and designing a home map. This is because, if planning is poorly done, it is likely that other serious errors could happen at other stages in the future or throughout the execution of the work, which would be extremely unfavorable. A home map indicates your requirements and what your home is going to look like, it helps you to figure out the changes required during the planning stage. To plan your homework well, count on dedicated, experienced and competent professionals. Talk to an engineer and an architect, tell them about your expectations, and discuss the project design. They will be very effective in setting deadlines, costs, execution details, and other characteristics. The different sets of plans that are required in any construction work are detailed below.
Architectural plans
It is the first set of plans that details the visual aspect and the internal distribution of a building is presented in the form of a home map. These plans are architectural drawings such as implants, plants, facades, sections, details, and perspectives. The architectural plans must be signed by an architect who owns the professional license granted by the competent entity, according to the location of the project.
Structural plans
They correspond to the set of plans that detail the structure of the building. Structural plans include foundation plans, slabs, columns, roof, iron sheets and structural details. These plans must be signed by the civil engineer who has designed and calculated the structure. A mechanical engineer has the power to sign structural plans as long as it is a metal structure.
Facility plans
It is the set of drawings of electrical/electronic, hydraulic/sanitary and mechanical installations. This classification is further subdivided as follows:
• Electrical/electronic installations: lighting plans, power outlets, voice and data, evacuation, security, sound.
• Hydraulic/sanitary installations: drinking water plans, fire-fighting network, rainwater, sewage.
• Mechanical installations: drawings of the air conditioning system, elevators, forced ventilation, among others.
According to the project, there may be different types of facilities. Each plan must be signed by the respective electrical, mechanical, civil or hydro sanitary engineer according to specialization. Some other important points after the selection of a perfect home map are:
Land, material and foundation
A good home should be built on good ground. Not only for the characteristics that the property will acquire, but also in relation to the price of this property. See land that can be cost-effective - consider factors such as price, location, size, and soil characteristics. It is common that when building a house and buying all the material in the same store, it offers special prices and conditions for payment, which can represent considerable savings for investing in other sectors of the work. Given the material and terrain you choose, it's time to get your hands dirty! Seek to hire a team of experienced workers who work competently from the foundation stage to ensure your home has the best service possible.
Follow the work closely
Even if you hire a very well-trained team of masons and other professionals, follow the work closely. With the help of your engineer, monitor deadlines and set goals for execution. See also in store if the purchase of materials has been made properly.
Have a nice home!
By following these steps, your home is likely to be built quickly and efficiently. Whether for living, renting or negotiating, building a sturdy and useful home depends on how resources are invested, managed and how the project is planned and executed. Keep an eye all the time! I hope this article will be helpful, if you have some queries about home map or any other question about the construction of a house feel free to contact us. Don't forget to comment and share your views about the construction of your home, the issues you were facing during the construction we can write about it to help others.
آپ کے مکان پر کل کتنا خرچ آئے گا جاننے کیلئے یہاں کلک کریں