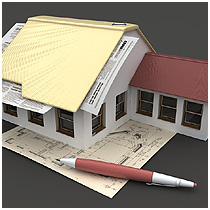 Keys to building an economical and well designed house in 10 marla
Building an economical and well designed house in 10 marlas is totally possible. At the time of designing your house is when you play all the cards.
While a well-designed design can save you money, a bad design can be a great frustration, a string of problems and exceed your original budget.
We could start by saying that this should be your central idea if what you are thinking is to build your house.
Never forget this please!
Another idea, if you are still not sure how you want your house to be, is to be clear about what you do not want.
It will help you a lot to go for a walk and see the amount of large and "ugly" houses (sorry, lacking in design, I meant) that have been built in your city.
You can't regulate or regulate beauty ...
The regulations will tell you about the maximum area you can build, the height limits or the percentage of land occupation.
But what a regulation can never tell you is how the design of your house should be. Fortunately!
The most common mistake when we have a limited budget is to want to have a large house.
Not so much because we need a super house, but because a big house makes us feel I don't know what ...
The origin of this error is to always be looking at the house of the neighbors, buying with others and interested in knowing how others see us.
Forget all that. You will never have an "own" house if you look at others if you look outside. You must look inside.
Your house is sacred, it is yours and should represent your lifestyle and that of your family, your values, your personal tastes and above all be beautiful, cozy.
It is in your home where you will live the most exciting experiences of your life, where you and your family are as they are, without masks. The house is the mirror of your life.
The idea of the big house is an illusion created by a model of consumerist society, where quantity is always privileged over the quality of things.
A big house, if you really don't need it, can become ridiculous. A mere appearance.
Building a large house is expensive, energy costs, maintenance, and environmental impact are high and you will end up paying for spaces that you will hardly use or enjoy.
Let me tell you where the secret is:
It is simple and we must turn to our old ally: common sense, who will tell us:
The relevant thing is not the size of your house, but the quality of the spaces in the house.
Even more, if your budget is limited.
Do not be too smart to assume that the more square meters you build the more money your house will cost.
Focus then on the quality of the spaces.
Then the challenge is to achieve, with a minimum of square meters (10 marlas), quality in the spaces, saving in the cost of materials and reducing construction times to the maximum.
How to achieve this?
Design decisions
This design must be full of details, small and intelligent decisions that seek to save money but never sacrifice the quality of the spaces.
The materials and the construction system
The successes in the design of the house are mostly seen in the choice of materials and the construction system one uses.
The costs of building a house vary depending on where you live, the cost of materials and labor.
As a summary, we could say that the keys to be able to build a low cost and well designed house in 10 marlas are:
● Your budget should be what guides your design.
● Seek support from an architect for the best design of your home in 10 marlas land.
● Choose to use local materials.
● Opt for a simple construction system.
● Do not use plasters. Leave the materials in sight, as long as they allow it.
● It privileges the quality of the spaces over the quantity or size.
● You should always have natural light and ventilation in the spaces of your house.
● Consider the inner courtyard as a great resource. Especially if you have mediator walls on 3 of your facades.
● Use the roof of your house.
● If local conditions allow it use simple and economical windows.
● Leave planned spaces (and the structure thus designed) for future extensions.
● Remember that you will always be able to finish or improve the details (finishes, plasters, paintings, etc)
● Don't be afraid to spend money on a good design. It is not an expense but an investment.
● A design is synonymous with planning. If you do not plan the construction process will be chaos and constant improvisation.
A good design in 10 marla land is much more attractive than a bigger house which is of no use. If you are interested to know more about house designs or maps in 10 marlas feel free to contact us. If you have some other queries about the construction of your house don't forget to comment or contact us.
آپ کے مکان پر کل کتنا خرچ آئے گا جاننے کیلئے یہاں کلک کریں