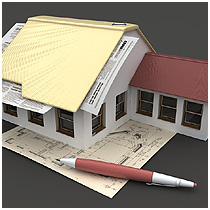 New home construction: 10 questions to ask before starting
You decided to build a new house? Bravo, but have you made the point to avoid financial drifts and other difficulties? Here are the top 10 questions to ask before the construction of a new property. Starting a new home construction can be stressful, and there are many important things to consider.
1. Did you consider all construction costs?
Land costs first, to ensure sustainability: if you buy land in a subdivision, little fear (these costs are usually included in the price). But if you are in diffuse housing, you will have to finance the necessary equipments to connect the ground to the EDF and GDF networks , the water supply, the sewer... The expenses related to the house then: besides the insurances , you will have to adjust the VRD (roads and various networks), not to be confused with previous servicing costs. This is not to connect your land but your home to electricity, water, sewage system. These expenses are rarely specified on the construction quote! Other fees (small streams make large rivers...) to pay directly: the installation of water meters and gas, the telephone line, not to mention the EDF cable that connects the cubicle (usually located on the edge of ground) on the electrical panel, which only an EDF technician is authorized to install.
2. Have you foreseen the "unforeseen"?
Do you really want to live your next twenty years with a low-end bathroom tile or door handles in bad plastic offered by the manufacturer to present a more enticing quote? You signed at a time when you had to take a lot of decisions very quickly, so you did not have the opportunity to investigate this problem, and it is under construction that some modifications to the contract will seem essential to you. . Be aware that a budget "door handles" can be multiplied by 10 or 15 depending on the model. Also, here is a piece of advice taken with surprising unanimity by the "new owners" we met: when you have considered a global budget, withdraw at least 15% of this amount before announcing an amount on which the architect or the constructor will start working. You will put that money aside for future crises of conscience and unexpected expenses.
3. Have you evaluated the operating expenses of your next house?
No need to hide your face: the operation of a house is more expensive than that of an apartment. And before you take the plunge, it is better to make an assessment as close as possible to the expenses that you will have to bear each year, besides the repayment of the loans which you will have contracted. Namely: local taxes, land and other. Important elements to take into account often: the transport of children to school, then the purchase of their own means of locomotion when they are older...
4. Have you thought about the future life of the house?
The children are still small. What will be the conditions of their schooling in a few years? Will the neighborhood offer opportunities or will they have to travel long distances every day? They will quickly need independence. And you too will get older... You will climb upstairs to get to your room with a little less enthusiasm. One day maybe you will want to stay on the ground floor. All these changes are to be considered before signing the "good to build" in terms of your project, even if you plan for future expansion when the time comes.
5. Are you satisfied with the plan of your house?
Among the false good ideas, spaces too large occupy one of the first places. Grouping on 130 m2 well ventilated a stay, a living room, a dining room, a corner reading and a kitchen in the American style, it is to renounce the independence and a part of the intimacy of the members of the family community . It is better to favor a larger number of rooms and to modulate the space by pocket doors. In addition, an independent entrance is often preferable to a walk-in access to a living area. Separating day / night spaces and children / adults, with each bathroom, is now one of the essential options. You have to take all these decisions before home construction, yeah you can modify some plans during the home construction process.
6. Have you chosen the right heating system?
The choice of a heating mode is a fundamental point in a home construction project. The alternative is often between a relatively cheap system at installation (all electric) but at high operating cost (and unlikely to fall in the future), or more sophisticated solutions combining solar and gas / fuel, for example, for better controlled operating expenses.
7. Will you have time to devote to your new home?
"In a house, there is always something to do..." This sentence, pronounced with enthusiasm for the first time, is nuanced by a slight bitterness as the years go by. Eh yes! After home construction to live in a house is to change people and few people can dispense with getting their hands dirty! What is very acceptable - and often a part of amenities - in a second home, quickly becomes a burden when you have to work long hours at the same time and worry about the many details that keep your home healthy.
8. Does your manufacturer offer all the guarantees and insurance?
After having chosen it on its references and having seriously examined the contract that it proposes to you, check that your manufacturer holds indeed a guarantee of delivery given by an insurance company or an approved financial institution for this activity. It is intended to allow the completion of the works in case of failure. It is obligatory, and if it is reluctant to present you a copy, it is better to choose another manufacturer! Other insurance is also necessary. Also ask the commercial court to find out if the company is not filing for bankruptcy.
9. If you chose a subdivision, did you evaluate the easements?
You will share the ownership of the common areas, with all the advantages, but also disadvantages that this represents. We have seen, more often than we think, people selling their houses after trying for a few years to comply with the laws of promiscuity.
10. You have decided to be prime contractor, do you know what awaits you?
You will be the grand master of choice for your home construction, but also the main cause of your possible setbacks. You choose companies yourself, juggling labels, certifications and standardizations of all kinds to decide. Be aware however that the follow-up of works is a matter of specialist. It demands precision, availability, knowledge and tenacity. You will have to fight with the Administration (sometimes) and with the contractors (often)... But to oppose a building professional is not easy! While you are the payer, your legitimacy to require a modification or a repair will not necessarily be recognized if you do not have a minimum of technical baggage. Good luck nonetheless!
آپ کے مکان پر کل کتنا خرچ آئے گا جاننے کیلئے یہاں کلک کریں